Product
Yoyo formula microgravity experiment equipment "Ez-Space"
he following photograph is a set of microgravity experiment equipment of JAXA . The experiment for 1 second is possible for this equipment.
Mr.EGAMI carries manufacture all out.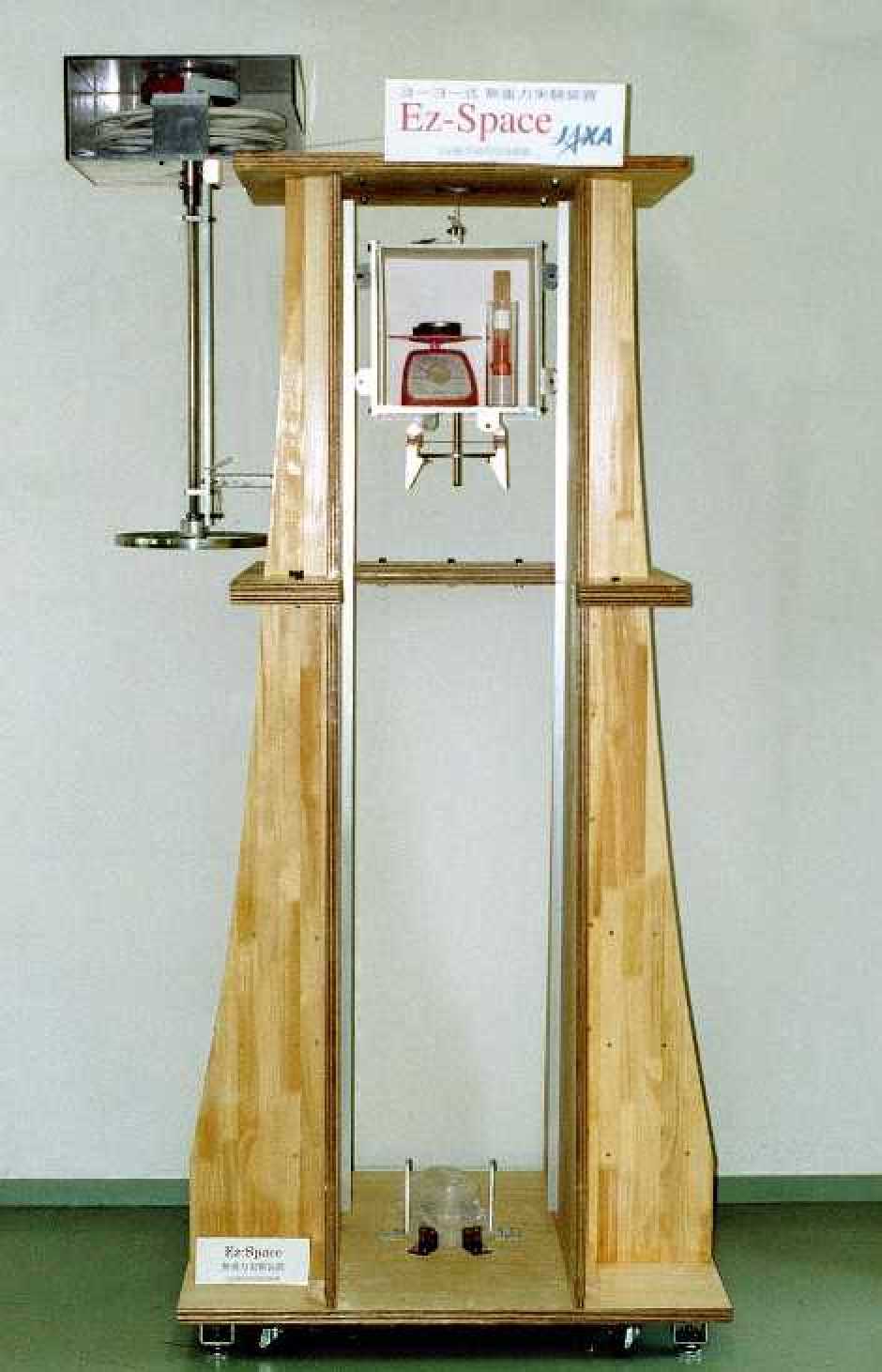 The microgravity experiment for about 1-second can do Ez-Space indoors. And since the principle of a toy yoyo is used, a microgravity experiment can be performed under non-power. Since a movement mechanism is in sight from outside, it is also the teaching materials of the dynamics of a schoolchild, a junior high school student, and a high school student.
(Feature)
1. The microgravity experiment for 1 second can be performed in the interior of a room with a 1 ceiling height of 2.4m.
2. Capsule size: -- one-side form [ 300mm cube ]
3. Experiment equipment receipt part size: -- about 280mm cube
4. Experiment equipment weight: -- set about 5kg(maximum)
5. Experiment equipment, turn a winding-up handle, and wind up a capsule to a ceiling rope has coiled around the spiral pulley at this time. If a winding-up handle is reduced downward, a clutch will separate and a capsule will start free fall by gravity. At this time, gravity energy is stored in a spiral pulley. It falls about 1.25m and the lowest point is reached. Even this is the 1st phase. Since a spiral pulley continues turning with the energy stored in the spiral pulley, a capsule can be pulled up upwards. And the best point is reached, free fall is begun again and the lowest point is reached. It will be in microgravity in the meantime. This is the 2nd phase. Henceforth, it is stood still, repeating rise descent.
6. At the best point of the 2nd phase, since it is exactly stood still by microgravity , observation can improve.
7. Although there are many examples of an experiment -- a capillary tube phenomenon (in a microgravity state, the water in a capillary tube goes up quite to a top), and a rubber ball (just as it became microgravity, a ball is a little floating-up. If many rubber balls are put in, it will become what, or they are? And a water gun (if it becomes microgravity, water stops Coming out, although water draws Secondary line curve.) If water is pushed out, it will fly straightly. There are a flame (in a microgravity state, a flame becomes round.) of candle, a sandglass (what does the sand of a sandglass become in a microgravity state?), etc. you -- let's devise, and consider and see various experiments Just as an insect becomes microgravity , it is surprised, may stretch a leg and may fly up. Let's photograph an image with a cellular phone or take the photograph in the best point. In addition, this system is based on Dr. Akiba's invention.

Dr. Akiba: Emeritus Professor University of Tokyo, the former Institute of Space and Astronomical Science head and a space Kaihatsu committee, the people HASTIC chairman of the board of directors from present NPO Law. Space science related patents a large number possession. It is a rocket doctor. HASTIC (011-708-1617) sells this equipment.

About microgravity
Usually, since free fall is used, although a height of about 5m is required, in Ez-Space, it is made a launch formula and this is made possible in a 1.25m both-way distance. Dr. Akiba (*1) got the hint to the yoyo, and he made this equipment. (Our company took charge of actual manufacture.) There is a piece of a rotation formula, thread is twisted around the axis of rotation, and a yoyo should be involved the end of thread in a finger -- if it swings down, while gyro rotates, it will fall If all thread gets loose, on the torque of a piece, thread will be rolled and it will go up. If the ball has been thrown in the air, a parabolic orbit will be drawn and it will fall again. A ball carries out a free flight and it has become microgravity mostly in the meantime. This principle is applied, and a microgravity experiment can be conducted, while having bounded experiment equipment and falling again. In Ez-Space, it has bounded by initial velocity about 4.9 m/s, and about 5kg experiment equipment is raised by about 1.25m. 1 If 25m rise is carried out, speed will become zero exactly and it will fall 1.25m again. The microgravity experiment for about 1-second can be performed in the meantime. "Power" is required in order to have bounded experiment equipment. In Ez-Space, it has experiment equipment in the peak manually first, and free fall of this power is gone and carried out. A flywheel is rotated with a string, the energy at that time is conserved, and it has bounded with the energy. That is, it is operating with natural energy. The slot of spiral form is cut in fact and the turning radius is skillfully changed so that the device which made the yoyo the hint may be given to the flywheel which twists a string and free fall and movement when having bounded may become a free flight closely. This principle becomes Dr. Akiba's invention and the principle is checked by a doctor's own trial production. The easy method of acquiring microgravity is carrying out free fall. For example, Galileo (If you jump down from an about 1m desk, while you will reach on the ground, it is microgravity mostly.)